Artwork by: César Ch.
When we had César Ch. over at our HQ in Turin, last December (take a look here), we also got the chance to develop a real face-to-face relationship with one half of the DNTFCK netlabel based in Mexico City and releasing material both from local and international artists. Over the last few months, we kept in touch with the guys via frequent exchanges that ultimately lead to a proper q&a that you will be able to read in the following, also featuring a special mix (59th on our GUESTMIX list) recorded by the other half of the outcome we've learned to love, Zurvolt.
The interview comes a few days after Zurvolt's debut on DNTFCK, i.e. the ethereal Atracción EP, which highlights the producer's distinctive capacity to conjugate dreamy, cloudy melodies with stretched, delicate dembow rhythms. The five-trackers, including also two different co-productions with obscure artists (namely Mental Lag and Shiroi Kitsune) which might unveil some future collaborations, spreads its vibe over an imaginary, dream-like dancefloor that also leaves space for meditative moments of introspection. Exactly like every other release in the catalog, such as the last, widely acclaimed The Gathering EP by Syntrovert, Atracción is available for name-your-price download at DNTFCK's Bandcamp, so there's no excuse for you not to check it out – and possibly contribute to their amazing project.
Be sure you are listening to Zurvolt's GUESTMIX#59 while reading the q&a, which expands mainly on topics such as the current international software-powered music scene, the difficulties one might face while running a label, free downloadable music, profit and much more. Push the button! (the tracklist is at the end of the article).
---
Q: Hi guys, thank you very much for being with us today. It appears this is the first interview you ever did about DNTFCK is that right? We'd like to start with the basic questions every label-owner gets, such as when, how, and why DNTFCK officially started? How long have you been knowing each other before to start doing things together? Are you both based in Mexico City is that right? Can you tell us something about yourself before getting into the specifics?
C & K: DNTFCK originally started as an idea from Kevin back in 2015, we have known each other from a long time now and we became Internet friends maybe almost ten years ago already! We have always had similar musical inclinations across the years, by that time we were both deeply into this weird wave of techno/bass/house music from labels like Zone, Marble, Sound Pellegrino, Ultramajic and Pelican Fly. He talked to me about DNTFCK, and we both re-released the netlabel with the first compilation.
C: About me, César: I'm from the northern metropolitan area of Mexico City (in Tecámac, Estado de México). I'm 23yo, and I'm currently applying for a major in technology, design, and communication. I also have ongoing research on contemporary art and digital culture. Kevin is from the peripheral west area from the city and he's 24years old. He's also deeply interested in digital arts and he has been independently studying music production and audio engineering for some years by now. More recently he also has been crafting some stuff involving fashion design.
Q: Can you tell us the story behind the label's name and its meaning? What goals did you set when first considering to start a label? Also, what is it that your followers shouldn't be FCKing with?
C & K: Basically, we don't fuck with tags or limitations. We believe in music and the feelings and intentions of the people who also believe in music and have something to say through it. Even if most of our catalog is indeed club music, and we have a lot of influences that feed our inspirations, we don't really care about following a certain trend or having a given style, we care about the way the music can connect with us, and we try to showcase that feeling the best we can. Don't fuck, just listen.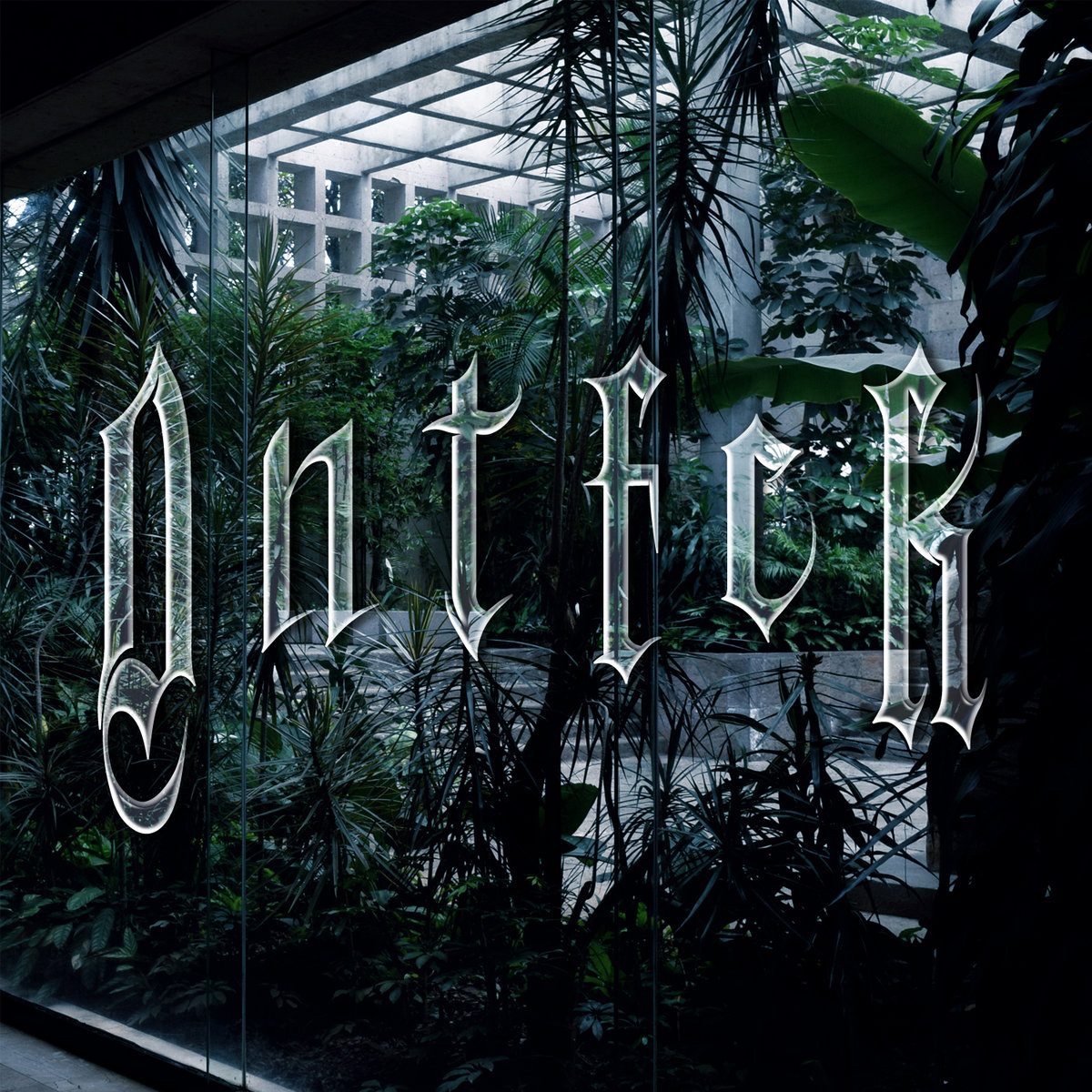 Q: Can you tell us something about DNTFCK's first release, DNTFCK Vol.1, out late January 2017? How much time did it take for you guys to gather those first 14 tracks and release them? How do you think back to that release now that two years have passed? 
C & K: Our main idea was to gather and highlight certain kind of club music that we were deeply enjoying at that time because of their dance provocation. We talked with some friends about DNTFCK and most of them made a special track for the release. Global, futuristic, deeply ethereal and pretty Latin-influenced, we think that compilation is still the perfect introduction for the label. We included one of the first tracks from Conejx, an amazing grime banger from legendary vaporwave artist CYBEREALITY, a tribal prehispanic tribute to Jorge Reyes (a legendary Mexican musician from the '90s), and we still get goosebumps when we hear the mecha-nu-dembow anthem "5-HT" from Trrueno's Anakta.
In a way, we think that the producers behind DNTFCK Vol.1 escaped their comfort zone for this particular release. Also, we deeply admire genres like tribal prehispánico so it was also really important for us to showcase them in a worldwide, parallel context. We're interested in spreading more stories and musical ideas through the compilation format. We somehow did that with the Deeven release, but a proper DNTFCK Vol.2 is still on our mind, although it may take some time as we want it to be as special as the first we did.
Q: You decided to make available all of your music for free on https://dntfck.bandcamp.com/. What's the main reason behind this choice? Did you specifically choose not to print any physical record or is it more of an economic issue? Not that is something bad with digital records, mind you, we're just interested in investigating the role of analog records nowadays.
C & K: We're not interested in making any kind of profit with DNTFCK. Our only intention with DNTFCK is to share music that we enjoy from people we believe in. If through this platform we can present for free music and artists that we love, we're gonna do it as long as we'll be having that privilege. That's why we don't have a schedule, and why we don't release stuff so often. We like to take our time and make the best we can with the limited resources we have. On a personal level, we also believe that putting a price on digital music or on a physical record in order to sell it like a collectible item is the opposite of making it available. Nowadays it's impossible to make a significant economic profit by selling music regardless of the format. Of course, not everybody shares this philosophy, and we can also understand why. We respect who manages to make a living with their music, and it's not our intention to occupy their places. So far, all our releases have been conceived with an alike minded ideology about consuming and sharing.
Q: After Vol.1, you managed to release 5 other records, respectively by OCTUBRXLIBRV, Lil Crack, Rizoma, Deeven, and Syntrovert. What can you tell us about each record? How did you get in touch with these first producers and why did you choose them?
C & K: Every one of our releases came out pretty organically. Syntrovert approached us with this club/narrative idea behind "The Gathering" and Deeven believed in our aesthetic vision with DNTFCK so we found it suitable to make a concept release for his Parametrix track. Our friend Phaedra told Lil Crack about our netlabel and Kevin encouraged OCTUBRX to make his debut EP with us. This situation was similar to Abssys (ex-Rizoma), the first time we got in touch with his music we were delighted and in tears for how good it was. César talked with him about DNTFCK; funny thing was that we originally wanted to release the tracks and demos he already had, but he came up with this made-from-scratch project that eventually became his proper first release: "Budas de Piedra".
Q: Also, there's a noticeable amount of remixes and rework appearing in DNTFCK's catalog, done by artists such as Kuthi Jinani, Bilej Kluk, FKOFF1963, WULFFLUW XCIV. We believe this is both a sign of your great ability to promote collaborative efforts but also of the inner cohesion within the underground SoundCloud/Bandcamp-powered international "scene". Do you feel you're playing a role in it?
C & K: We guess we just like to see what happens when we make the musical dialogue. We also admire the statements of the artists we've asked for remixes. We also believe that club music should be as communitarian as possible, not only on a local level, but also on a parallel-worldwide output – artists, listeners, DJs, producers, whoever could be interested – so we could really embrace the idea of a global scene (or whatever you wanna call it) if it can connect us all. It's important to share, critique, make commentaries, spread alike-ideologies and we can also do that with the music itself. It's important for us to maintain and take care of the things we believe in this kind of music.
Q: Which challenges are you facing mainly while running the label? Is it finding the time to manage it? Is it finding good stuff to release in the first place (well, we seriously doubt that given the astonishing amount of incredible producers coming from CDMX)? Do you have problems at all regarding DNTFCK or is everything going smoothly?
C: The most time-consuming thing I do is give myself time to listen to music in a proper way, but that's also the most enriching and soul-filling activity.
K: For me, the challenging part is finding the best quality of the sound in the music we share, that's also why I'm so interested in mastering, we want to be able to make that kind of processes all by ourselves in the future.
C & K: We both believe that the most challenging part of having this platform is to share all this music and trying to give it their proper space and time for appreciation. We care for the music as much as we care for the people behind it, and the feelings we felt when first listening to it. So the main challenge for us is not to find something to release – we have a huge list of ideas for future releases – but rather to showcase it in the best possible way; to make our label talk about stories and concepts rather than just club tracks, people rather than mere producers.
Q: César, we'd like to ask you about the label's artwork in detail. Did you make all of them, is that right? Where do you usually draw inspiration from and how you manage to translate it into a finite outcome? Does your creation process entirely take place on the computer?
C: In a way, I've made all the artworks from DNTFCK so far. I draw my inspirations from the concept behind each release. I don't consider myself a visual artist but I like to think I do well at communicating, so the thing I'm most interested in exploring when I offer myself to do an artwork for a release is to visually translate it. See if my visual idea is accurate with respect to the intentions behind the release. As I and Kevin are both interested in digital art and culture, all the visual motifs of the label are also inspired by that. Not all my creative process stays entirely on the computer, but every final idea has a digital outcome.
Q: Now a question for Kevin only: can you tell us something about the mixtape you recorded for us? Did you usually have fun recording mixtapes or do you prefer playing live sets?  
K: In this mix I focused more on club tracks that I consider being key influences in my sound, going through ballroom to tribal, grime, dembow and ending with sounds inspired by jersey club (even though I don't really like to tag my mixes). More recently I have been doing DJ sets only, which is something I really enjoy doing, but I have always been interested in the live interaction with my music, so right now I'm experimenting with a 'hybrid' performance that involves both live + DJ Set which I hope I will be able to show to you soon.
Q: Finally, let us ask you something about your future directions, both from DNTFCK's perspective, and global tendencies too. Back in 2017, you reportedly set with Vol.1 to push "the boundaries of club music". What do you feel is the situation right now, a non-negligible amount of time later (considering how much music evolves today)? What are DNTFCK future plans? Are you gonna release something soon?
C & K: The most passionate and interesting club music will always be made in Latin America, and the most forward-thinking club music is already being made in any place that doesn't involve any first world country; like Argentina, Mexico, Brazil, Indonesia, Uruguay, Chile, Colombia, Japan, China, Hong Kong, South Africa, Central America, etc. Most of the time, the tasteless and over-conceptualized motifs of first world artists lack a lot of emotions and spirituality that we face as "peripheral countries", and this might be an unwanted opinion, but it's getting really boring to see the same kind of artists being praised for the same kind of achievement we've already obtained outside the spotlight of cultural globalization.
Concerning the label, we have a lot of exciting ideas for DNTFCK in the near future, a lot of incredible shows to be released in our monthly residency at Internet Public Radio, and some upcoming releases for this year. We're also working on the second release of OCTUBRXLIBRV and we have a surprise from an upcoming DNTFCK producer at the end of the year.
Q: Thank you very much again for having spent time to answer these questions. Hope to catch soon again!
C & K: Thanks to you for giving us space <3 we deeply value your journalistic work.
C: Did I mention that you were the first medium where I saw a proper recording from a live show from Elysia Crampton? I will always love you for that!
Follow DNTFCK on Soundcloud and Bandcamp.
---
TRACKLIST
Breyth ft. Kizua – Preto No Branco
TOKYO DRIFT (ICEBOI EDIT)
Celia Cruz – Herencia Africana (Branko Remix)
Flute – Puga
Bambounou – Abodan
DJ Maus – Raices Africanas
KATE BOY – MIDNIGHT SUN (LAO REMIX)
Third Passage – NKC
Halcyon Veil – Late (Laser Ha)
Sudanim – Midrift (Neana on the trak Remix)
MikeQ & DJ Sliink – Werk'd it
Snowy Beatz – Misfit
Spaceseeds – Wind
Snowy Beatz – Liar
MM X La Materialista – El Rope Que Vibra (Astrosuka X Anakta Edit)
Zurvolt – Thermotropic
Java Script – Prayer Hands (DJ Sega Remix)
DJ Funeral – Last Breakfast
Dinamarca ft. DJ New Jersey Drone – Battle Trak (Imaabs Remix)
MM – Reflector Pack (4/4)
DJ Funeral – Shutterbug
BULLET ANTHEM – ID
Nwxrk (Cybereality Jersey Club Edit) – Nadus
DJ Yolo Bear – Whitney VS Brandy
Kid Antoine – Expected Encounter
Dinamarca – Descontrol
---
Are you enjoying what you see on PAYNOMINDTOUS? If that's the case, we'd like to kindly ask you to subscribe to our newsletter, our Facebook group, and also to consider donating a few cents to our cause. Your help would be of great relevance to us, thank you so much for your time!
PAYNOMINDTOUS is a non-profit organization registered in December 2018, operating since late 2015 as a webzine and media website. In early 2017, we started our own event series in Turin, IT focused on arts, experimental, and dancefloor-oriented music. We reject every clumsy invocation to "the Future" meant as the signifier for capitalistic "progress" and "innovation", fully embracing the Present instead; we renounce any reckless and ultimately arbitrary division between "high" and "low", respectable and not respectable, "mind" and "body"; we support and invite musicians, artists, and performers having diverse backgrounds and expressing themselves via variegated artistic practices.